The Fake Announcement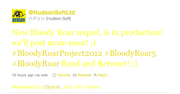 On October 1st, 2011
Hudson Soft
announces via Twitter the debut of production of Bloody Roar 5.
Only three days later, the ruse is exposed when the account tweeted what was supposed to be the first image, but was actually an image stating "You all been trolled!", revealing it was a fake twitter account [1].
Project abandoned as Hudson close U.S. offices
On February 9, 2011, It was revealed that a new Bloody Roar sequel was in production, but after Hudson Entertainment closed down, it was canceled. Waiting for sponsors to promote their new game for the next generation consoles but lacking financial push and marketing [2].
Writing on his own blog [3], Morgan Haro, former Hudson Entertainment Manager, left a note explaining the situation for the Bloody Roar series :
"A special note goes to the fans demanding a return of the Bloody Roar series. It was something I personally pushed for in the company, despite the crowded fighting game market. With digital distribution channels like XBLA and PSN, I felt there was a chance, if done right, to re-invigorate the series. There were some game design documents sent around internally of some spin-offs of the series, but it didn't seem like it was the right direction. There was a chance for something to happen late 2011, early 2012; but clearly, we won't see what was to be. To the Bloody Roar fans out there, I read every single one of your messages, petitions, and calls for the series to be brought back. You guys are awesome, and perhaps some day, a developer and a publisher will pick it up, and do it justice. Until then, just know, you guys rock."
The Bloody Roar series rights
Since Hudson Soft ceased to exist as a company and was merged with Konami Digital Entertainment in 2012, the rights of the series go to Konami. On this day, if a Bloody Roar 5 is been developed, it will depend on the decision of Konami and Eighting.  
No name is really affiliated with the franchise despite Kenji Fukuya [4] who worked on all Bloody Roar instalments as director. Unfortunately, too less it's known about him and he doesn't seem to work in video games since Bloody Roar 4 (2003).
Citations