We're Getting Mutants in the MCU - The Loop
Play Sound
DreamMix TV World Fighters (ドリーム ミックス TV ワールド ファイターズ) is a crossover fighting video game developed by Bitstep and published by Konami, Takara and Hudson for the GameCube and PlayStation 2 in Japan on December 18, 2003. The game crosses over characters from Hudson and Konami's video game series and Takara's toy lines.
DreamMix TV World Fighters doesn't belong in the Bloody Roar series despite having Yugo Ogami as one of their playable characters.
Plot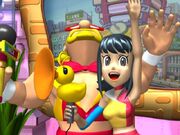 A fledgling television program, animated by the overzealous Haruna and the ruthless Mujoe, has been suffering from poor audience approval, and the station that carries the show has informed its producers that they will have to rectify the situation or face inevitable cancellation.
An unorthodox plan is implemented: broadcast a contest pitting various superstars from differing realities in physical combat in order to increase ratings.
As the competition comes close to an end and seeing that their plan is still not enough to save their show, Haruna has the idea to put her co-animator, Mujoe, in a spaceship and to make him the final opponent for the competitors. The guest fighters are still able to defeat him, despite an unfair battle, giving a big finale to the show.

Gameplay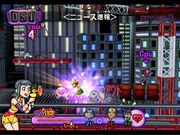 The game sees up to four players controlling fighters from various franchises.
The game revolves damaging opponents and taking their life in the form of heart shaped coins. A meter at the bottom indicates how much life characters have remaining. If a player loses all of their hearts, they will enter the Super Pinch state in which they shrink in size and their soul will fly around the stage. If another character retrieves their soul before the player can, the player is knocked out though can still walk around the stage in shrunken form to interfere with the remaining fighters. The last fighter standing at the end of the round wins.
The two main modes of play are World Fighters, a single player campaign, and Character Soul Survival, a multiplayer battle. There are also minigames available.
Each fighters have four principal moves : Basic attack, Special attack, Throw move and Shielding.
Characters
Up to four players can choose from seventeen playable characters, each from video game and toy series such as Castlevania, Metal Gear, Beyblade & Bloody Roar.
Hidden Characters