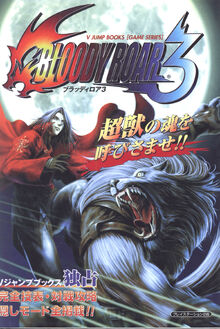 V-Jump Books is a line of V-Jump, a Japanese manga magazine, focusing on new manga as well as video games based on popular manga.
V-Jump Books is focusing around video game guides and mostly for the series of Square Enix.
Bloody Roar, Bloody Roar 2, Bloody Roar 3 and Bloody Roar: Extreme all had their guides published in V-Jump Books. The guides featured exclusive artworks and backstories from the games.
For the first three opus guide, Naochika Morishita was in charge of the illustrations.
Publication Dates
BLOODY ROAR Official Guidebook: 1997
BLOODY ROAR 2 Official Guidebook: 1999
BLOODY ROAR 3 Official Guidebook A5 Edition: March 1, 2001
BLOODY ROAR extreme Official Guidebook A5 version: April 25, 2002
Gallery
See also: V-Jump Books Bloody Roar Galleries
Links